Posted by By Jim at 2 April, at 10 : 13 AM Print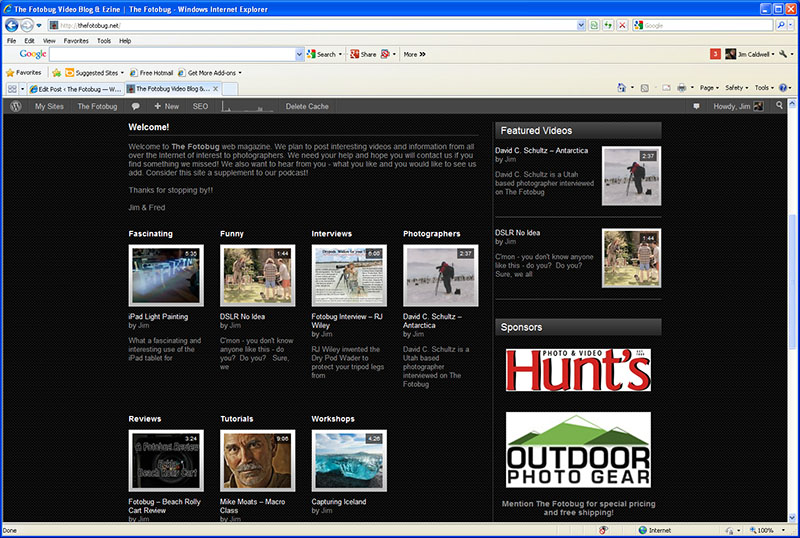 Warning: count(): Parameter must be an array or an object that implements Countable in /home/thefot6/public_html/wp-content/themes/Video/single_blog.php on line 56

This new Fotobug website is intended as a supplement to our popular podcast in order to provide more information and content.  We are always pressed for time on the podcast, so hopefully you will find this site to be a valuable addition.
In order to get the most out of this site, I'm going to do a quick walk-through and quickly point out the features.  We welcome your comments and suggestions and if you find some interesting photography related videos to share, let us know!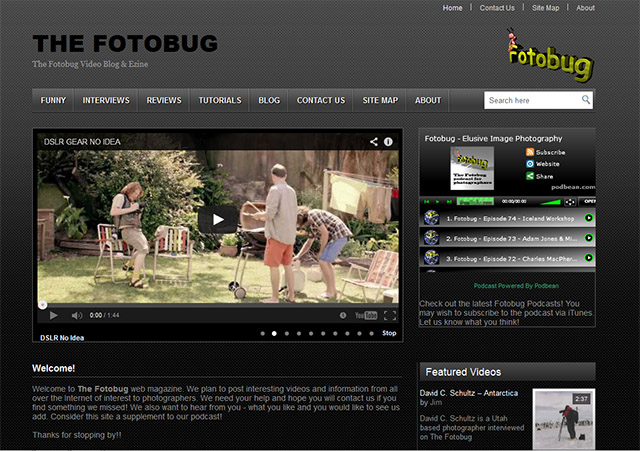 The first thing you are likely to notice is the video slider that features the most recent videos we have added.  It will present a screen and brief title of the last 10 videos added, and you may stop it at any point and click on a video to view it.  In most cases you should also be able to click on the lower right of the video to watch it full screen.
To the right of the video content slider is a widget that displays a list of all The Fotobug podcasts.  The most recent is on top followed in order down to the very first podcast.  You can watch the podcasts here, but we encourage you to subscribe via iTunes or your favorite RSS feed for a better viewing experience.
Above the video content slider is a list of links to some of the popular video categories as well as links to our blog, our site map and the About page.  In the upper right of each page are links to additional pages such as a Contact Us page and links to pages about the co-hosts, Jim and Fred.
Directly below the Video content slider are thumbnails and links to the latest video in each video category.  These categories include videos from photographers who have appeared on The Fotobug podcast, workshop videos, tutorials, reviews, etc.  Click on the headings to see all videos in each category!
In the footer of each page are also links to popular pages and categories as well as social media links.  However, the most important item in the footer, is circled in yellow above.  Simply enter your email into this text box and click on 'Subscribe' and once a week, you will receive an email summary of new content that was added to the site!  No spam, we promise!
Below each video on the video detail page and following each blog posting is a comment box.  We encourage you to leave comments!  In addition to the usual social media buttons (Facebook, Google+, Pinterest, etc.) there is a star rating system.  After watch the video, please click on the star that represents your opinion of the video, from 1 to 5 stars (5 being the best, of course!).  These comments and ratings help us to determine what is popular and what our listener/viewers want to see.
Last (but not least!), there is a link at the upper right of each page to Contact Us.  Please don't hesitate to use this to send us private feedback, complaints, suggestions, or whatever.  We want this website to be a valuable resource and we need your help to make sure we reach that goal!
Thanks for taking this quick tour with me and don't forget to leave any comments or questions below!
Blog, Tutorials fotobug, Internet, navigating, photography, web, website