Fred Rodgers has been interested in photography from the day he picked up his grandfather's vintage Kodak 35 camera. His interest in videography began when he took classes in film and cinematography as part of his minor in Mass Communications. Fred has a diploma in Horticulture from Pinellas Vocational Technical Institute. He also holds a BS in Technical Education and an M.Ed in Instructional Technology from the University of South Florida. After graduation from college, he went to work for the Pinellas Technical College where he recently retired after 35 years of service. Fred is certified as a Computer Science, Computer Service & Repair, and Horticulture teacher.
Fred first made the acquaintance of Jim Caldwell when he walked in his camera store to see about repairing a light leak in his vintage Kodak 35. (It is his first film camera, and holds a lot of sentimental value!). Fred has worked with Jim on numerous photography and videography projects through the years. He has experienced the transition from film to digital media and enjoys working with the best of digital technology while acknowledging his roots and years of involvement with film. He leads photography workshops both in and outside of his home state of Florida. Jim and Fred often team up to lead photo workshops and enjoy sharing their knowledge.
Fred also has a deep love of music. He has played drums since he was 14 years old. Fred and long time musician friends John Malvey and Don Crowl have worked on several music projects. One of those projects ended up becoming the theme song for The Fotobug Podcast (Funky Monkey). He currently jams and works on composing music with another long time musician friend, Andy Karpinski.
Fred co-hosts The Fotobug Podcast along with Jim Caldwell , which can be downloaded from www.thefotobug.com and is also available through iTunes!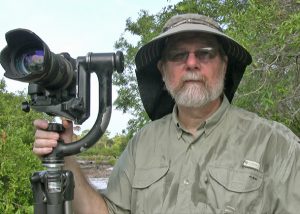 Fred getting some shutter time.
Contact Fred: